This one is a fab idea for brides having a North-South wedding! Yup, a fusion bridal look is very trending these days, especially if you're having a mixed-culture wedding, and it's not just with the outfits that you can have a fusion-inspired look, the jewelry can play a big role in that too. So here are some brides who nailed that, with some statement fusion jewelry pieces, and we absolutely loved them!
This gorgeous temple-fusion jewelry inspired choker and layered necklace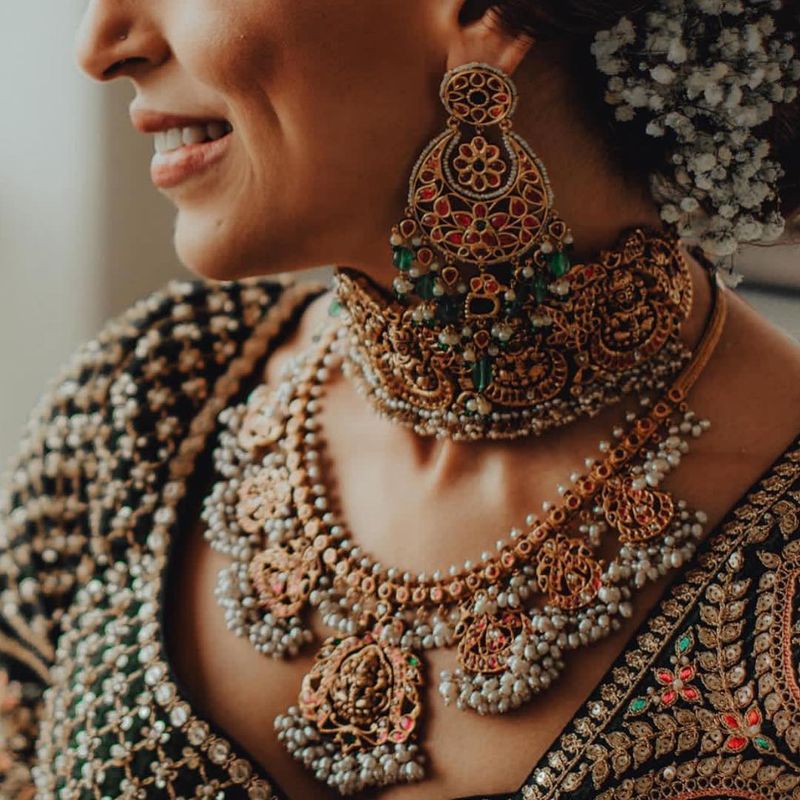 This bride wore an offbeat Sabyasachi Lehenga in dark green, but paired it with this stunning temple jewelry choker and necklace with pearls which looked absolutely delightful and unique! One of our most favorite pieces we've loved off late.
Diamonds and emeralds layered with beaded jewelry that look stunning!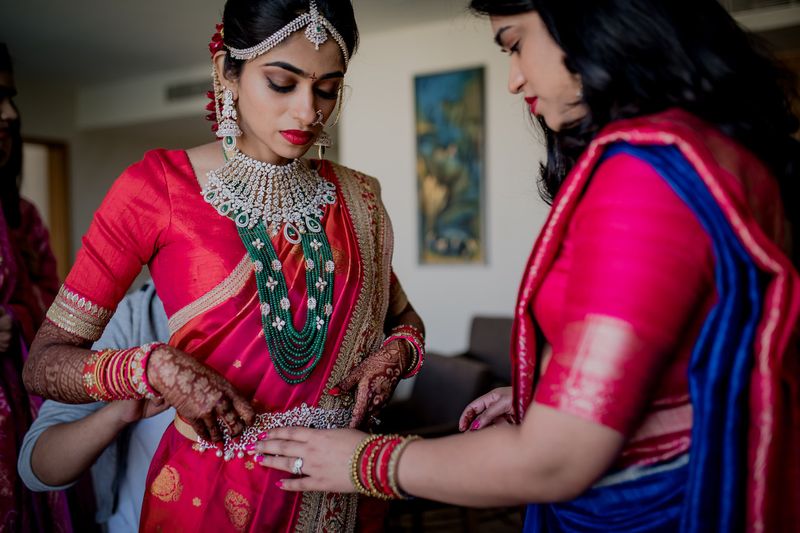 Now that is one South Indian bride who did things differently! She paired her contrasting diamond and emerald jewelry with that beaded green necklace, which escalated her bridal look by leaps and bounds.
This bride's gorgeous rani haar and choker
Another bride who did the temple jewelry choker- rani haar combo to perfection. Love how elegant it looks with her purple and pink Kanjivaram.
This actress bride's statement temple jewelry pendant!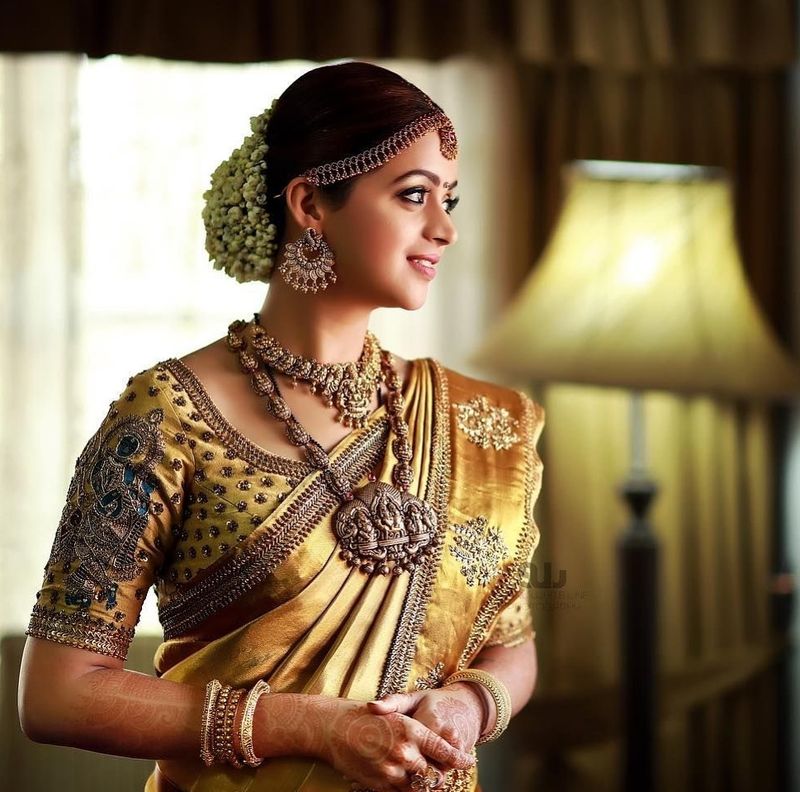 Just look at that offbeat and unique pendant- so simple, yet so bridal! And we love how the finish on the jewelry matches the work on her blouse and saree.
Or this antique finish beauty!
This bride's statement rani haar with the antique finish and temple jewelry work is beyond gorgeous! She paired it with a bib necklace that layered it out so well.
This bride's minimalist layered necklace
Now that is one pretty fusion necklace– love the minimalism of the longer necklace, and the shades that contrast so well with her blouse. 
Bride's enamel work jewelry for her Sangeet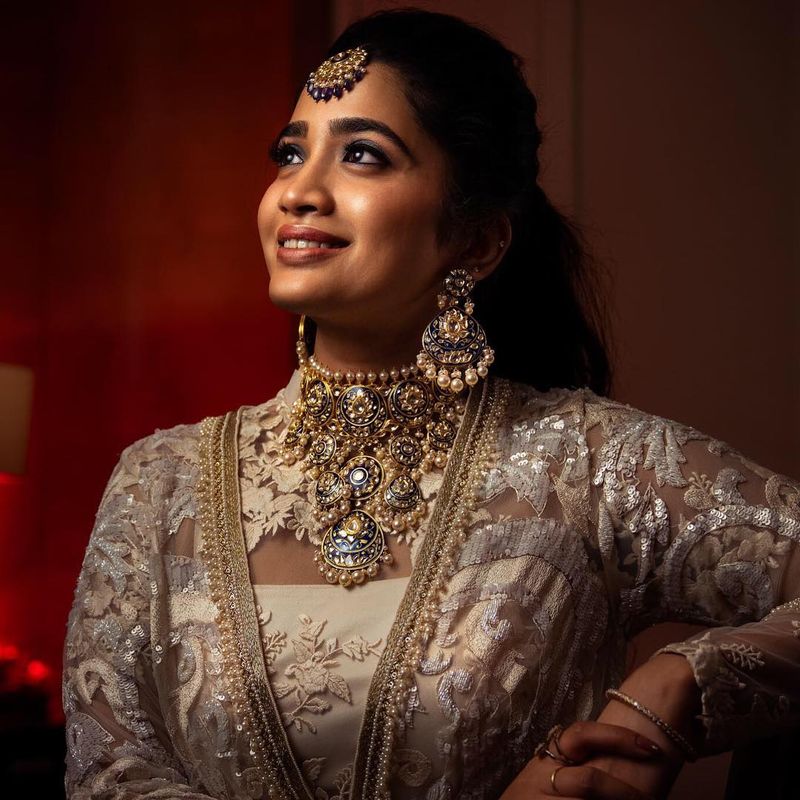 The bride's jewelry on her Sangeet with the blue enamel work stood out and how! 
This bride's modern Maangtikka and choker necklace with her Kanjivaram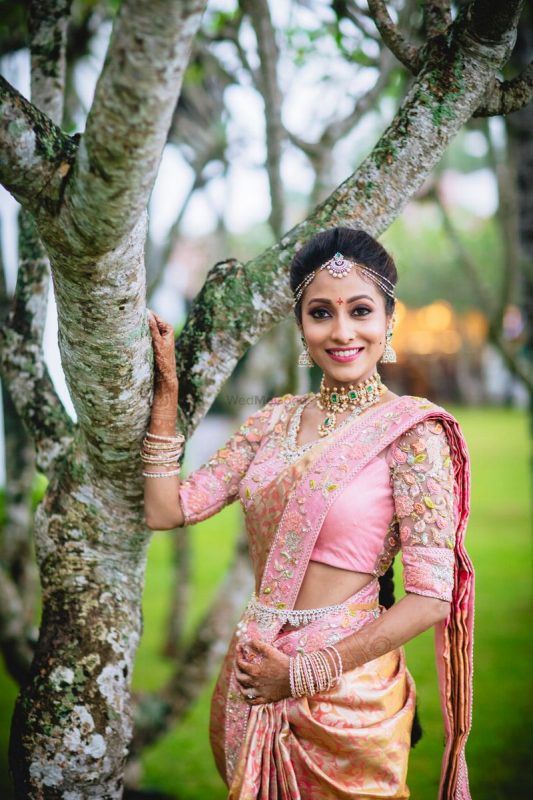 This bride kept her bridal jewellery minimal so that her outfit did all the talking. We especially loved her minimal mathapatti and that choker with a pop of green.
Or this one with the gorgeous Meenakari work in black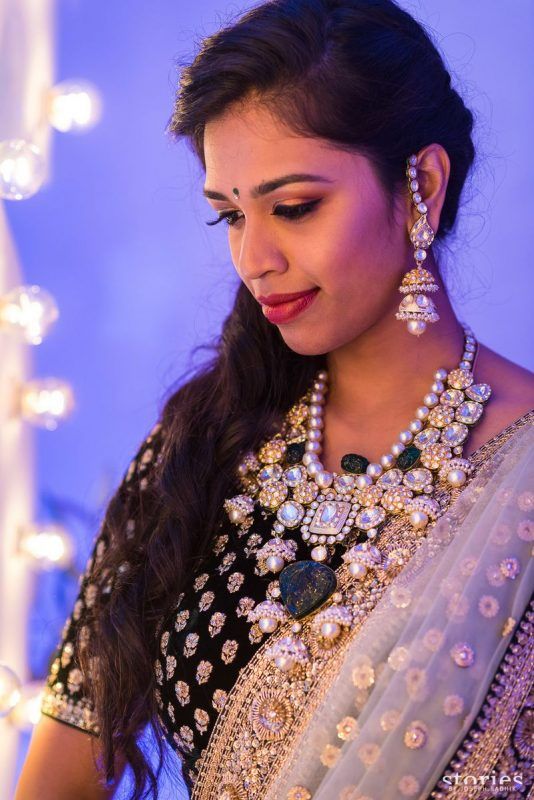 This bride's Meenakari work necklace made us do a double take, and we loved it! You don't get to see a lot of fusion jewelry with black in it, but this one works so well.
This bride who mixed and match North Indian and South Indian jewelry
Now that's how simple and stylish is done. The pendant was a gorgeous piece of fusion jewelry that worked so well with her floral work lehenga.
Check out the bridal photo-shoot ideas and more here.
Read More