Your wedding day is one day where nothing short of perfection can come to pass. With all your long-awaited hopes, dreams, and fantasies coming to life, it is easy to get worked up over tiny details that might or might not materialise, to fuss over plans and venues, and what not. But looking your absolute best? That is one thing you need not worry about. Just follow these bridal wedding makeup tips, and look breathtaking on your special day.
Handy Bridal Wedding Makeup Tips And Essentials
Here are some handy bridal wedding makeup tips and essentials to achieve the best results on your D-day.
1. Cleansing The Face
Indian brides love to use bold and bright colours for their marriage ceremonies. In order to obtain a long-lasting look, you should start by cleansing your face well and then patting it dry to ensure that there are no traces of dirt or oil on the face.
2. Base Preparation Tips
Moisturize your face for a smooth appearance and an even skin tone. Amidst working extensively on the face alone, do not forget to moisturize using your fingertips by rubbing well in a circular and gentle motion. You could even use a tinted moisturizer.
3. Face Fix Up Tips
a. Use a primer two minutes post moisturizing, and blend it well. This helps to keep your concealer and foundation in place and keeps the makeup intact for long hours. Sephora and MAC are amongst the top brands for primers.
b. It is equally important to use a concealer to cover spots or blemishes. So you can brighten up your skin tone by using a coloured concealer like yellow or green to cover the reddish blemishes on the skin.
c. Starting from the centre of the face, apply the foundation on the other areas and blend it outwards. A foundation with a matte finish would be a good option as well. A foundation with SPF will give your face an undesirable 'flash' effect in photographs, So it's better to avoid it. You won't be spending much time in the sun on your wedding day anyway!
d. For a glowing look, use a highlighter on the higher planes of the face, such as the checkboxes, the bridge of the nose, the centre of the forehead, and the Cupid's bow. You can opt for highlighters from Colorbar, Sephora, or MAC.
4. Bronzer Tips
The bronzer is commonly used to heavily contour the face and make it look chiselled and sharp in the photographs.
Take a blush brush, preferably angular, and apply with strokes on to the sides of the chin, but not on the centre. Do the same on the sides of the forehead, and on the two sides along the nose bone, but not on the top. Suck your cheeks in and use some bronzer on the top part of the contours, near to the ear, in light strokes. Also, make sure it is not along the entire length of the contour.
5. Blush Tips
Take some blush on a blush brush and pat the excess off. Hold a steady smile and apply it in a circular motion, blending it upwards, towards the ears.
6. Eyeshadow Tips
Indian brides love golden eye makeup since it goes better with their red, fuchsia, or green or heavy saris. So, if you want to play it safe, this is the color to go with.
Paint your eyelids with a gold or peachy pink shade, and use some charcoal shadow on the exterior lid contours to give a subtle, smokey effect. You can secure this by using a brown shade on the inner crease area.
Use an eyebrow pencil or an angular brush dipped in brow powder for the eyebrows.
7. Eyeliner Tips
Do not experiment with brown or blueliners on your wedding day. It's much better to use a plain and simple jet-black liner, mostly waterproof.
Grab some false lashes to accentuate and open up your eyes, making them look brighter. Remember to have some trials before the wedding date just to ensure there is no room for trial and error for your bridal wedding makeup.
8. Lipstick Tips
If you have thin lips, then line your lips along the natural line with a colour that almost matches your normal skin tone. If you have plump lips, then line the natural lip line with a darker shade. Wear a lipstick that complements the whole look.
Go for maroon or dark red for bigger and fuller lips, and peachy pink or light pink for thin lips. Thin-lipped people can apply lip plumper instead of a lipgloss, whereas large-lipped people can use a simple lip-gloss, concentrating more on the centre of the lip.
The bride-to-be should also follow some makeup rules and be prepared to wow the multitude. Here are the tips:
10. Explain Your Needs To The Makeup Artist
If you are going for makeup artist, make sure you explain what you need and what you expect clearly. Explaining things in advance will help you get the look you want. If the makeup artist is new, certainly it is always recommended to get a trial session before your wedding day.
11. Get Glowing Skin
Amongst all Indian bridal wedding makeup tips, getting your skin to look healthy and glowing on the wedding day is very important. Simply taking care of it a week before the day will not suffice. Your skin needs time to take in nourishment and treatments. Overdoing the treatments may lead to further damage. Make time for yourself and indulge in the treatments two months or at least six weeks before the wedding day. Take regular pedicures and manicures. Also, go in for facials and skin treatments at least six weeks prior to the ceremony to give your skin time to work. Here is a detailed post on how to get glowing skin.
12. Exfoliate Your Skin
scale your skin to get rid of dead skin, also remember to exfoliate only twice or thrice a week. On the other hand, over exfoliation may make your skin dry.
13. Protect Your Skin From Sun
Do not go out without a sunscreen and reapply every two to three hours to keep the skin damage free. This is a definite must in the list of bridal makeup tips.
14. Ward Off Stress Hormones
You need to relax and shut off all the stress. I know it's difficult to practice .however stress can take a toll on your skin, making it look worse.
Bridal Makeup Tips For Eyes
For the best Indian bridal wedding makeup tips for the eye, most importantly follow these tips:
15. Take Care Of Puffy Eyes
Have puffy eyes? Use chamomile tea bags over the eyes to make them appear less puffy. Using normal tea bags may stain your skin.
16. Get Enough Sleep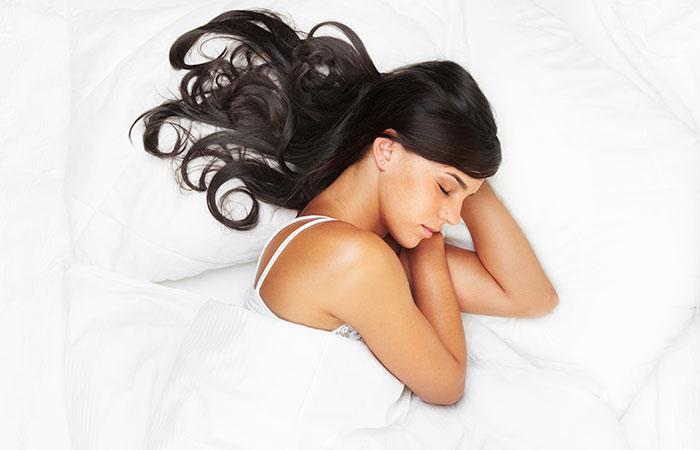 A night of good sleep is very essential. The more you sleep, the more time your body gets to repair itself. Therefore sleep for at least six hours every day to keep those under eye circles away
we hope this post will help you to choose the best bridal wedding makeup tips on your special day.
You can also check out The Prettiest Fusion Jewelry Pieces We Spotted On Real Brides here
Read More